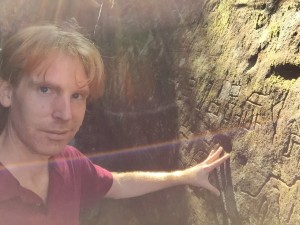 In 1995, at the age of 18, I began having out-of-body experiences and soon learned a measure of control over the experience.  It was as if GOD had given me a tool for exploring the unseen.  This allowed me to quickly begin consciously exploring the answer to a lot of common questions, like: "What happens after we die?", "Do angels exist?", "Are there Extra Terrestrials visiting Earth, and what are they up to?"
You can't imagine how many such questions I have thoroughly answered in my exploration over the past 22 years.  During that time my life has been graced by visitations from Ascended Masters, Angels, Archangels, enlightened ETs, nature spirits, deceased ancestors, as well as notable figures from the spiritual history of the planet.  It is also not uncommon for me to travel into the future or the ancient past during my out-of-body experiences, and I do enjoy keeping tabs on a lot of social issues from an angel's eye view.
When I first began writing publicly it was to deliver a series of communications from the Angels of Peace, who inspired a group of us to broadcast a single prayer/message to the world:  CHOOSE PEACE NOW!!!
At the time, the angels said that they were coming to protect an emerging grid of global peace consciousness that had begun to strengthen after the 9/11 event.  Broadcasting this message at the time was a way of sending an angelic invitation to link up with this emerging Grid of Peace that has continued to strengthen and evolve ever since.  Now there are pillars and bridges of peace that have been anchored into this grid, and new peace potentials are starting to download wherever conflicts arise.
I was further involved in helping to anchor these energies through a series of conferences for the proposed U.S. Department of Peace.  Since becoming involved with the Department of Peace Campaign in 2004 I have lobbied congress in Washington DC twice, and also traveled to Iran as a civilian diplomat with a friendship delegation, organized by the Fellowship of Reconciliation.  Of great interest to me are the fragile peace potentials in the Middle East and elsewhere that are steadily gaining momentum towards an effect of global transformation.  My life is dedicated to nurturing these peace potentials to fruition.
In 2005 a council of Ascended Masters appeared in my meditation and asked me to start offering readings to people and they immediately began connecting me with people that felt drawn to receive the wisdom and energy that they have continually placed in my heart. I am honored to serve in this way and to help bring people closer to their guides and to realize more of their potential.
After years of careful training and devotion to spiritual practice, the Masters commissioned a new and growing body of work through me as part of their School of Manifestation on the inner planes. This is one of their many educational projects to uplift humanity and help bring us into a new paradigm of peace on Earth. Currently, I am working on a series of books that contain the best of my channeled writings.